2006, Vermont Law School – Debevoise Hall, South Royalton, VT
Architect: Truex Cullins & Partners
General Contractor: HP Cummings
Site Super: Leet Ware
Energy Commissioning Agent: Marc Rosenbaum of Energysmiths
Murphy's CELL-TECH Responsible for Thermal Envelope Insulation and Air-Leakage Control Work.
1st Place Best of the Best School Renovation at Better Building by Design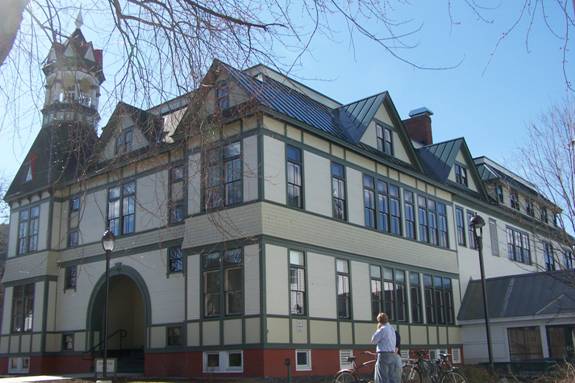 Murphy's CELL-TECH was responsible for Thermal and Sound Attenuation Insulations, and responsible for the Air-Barrier Integrity of the building shell. The complexity of the structure included the 1850's original building, a 1930's addition, and 2005 new addition. The older building areas created additional challenges because of restrictions to access in order to preserve the building's Historical value. Combining all the structures into one high performance energy efficient thermal shell required creative ingenuity and standard installation techniques. The challenge was exciting and achievable.
100% Borate Cellulose Insulation was used throughout most of the structure. Closed-cell foam was used in the oldest roof rafter areas where the rafter depth was too narrow to take advantage of the cellulose's lower cost, and it was used on below grade wall areas where potential moisture/water was a concern. The complete roof system is designed to perform without a vent, and the Cellulose Insulation manufacturer, NuWool, gave an assembly warrantee for the life of the building.
The 100% Borate Cellulose product contributed points required to earn the LEED Silver Award. Murphy's CELL-TECH insulation work and air-barrier integrity work on the building, along with all other energy efficiency decisions/choices for the building – Contributing to earn up to 10 points for LEED Silver Award.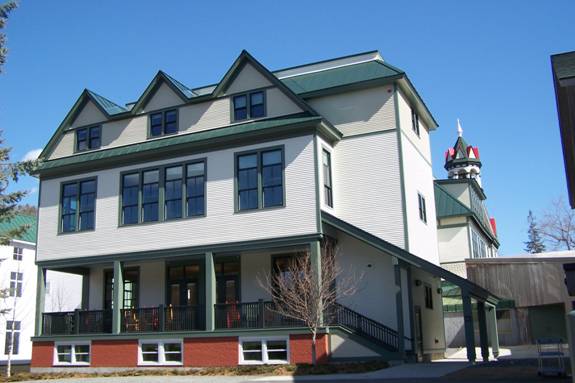 • Marc Rosenbaum arrived on site to perform progress commissioning duties concerning Insulation & Air-Leakage Control Work. We inspected the site together. Marc saw us working with our own IR Video and Blower Door performing a Search & Seal method to find and seal leakage pathways throughout the entire building. When the inspection was nearing its end, Marc said (I paraphrase his words as I remember them from our conversation) "You are not just some insulation company. You are thermal envelope specialists! You are making my job easy. I don't need to worry." John B. Unger Murphy, MC-T's Owner/Manager.
• Innovation: Existing Historic Windows, Double Hung with ropes to counter weights. Special Method developed for counter weight pockets to insulate and reduce air-leakage while also meeting Historic Building criteria.